Is NuBest Tall safe? How to use it?
NuBest Tall has become a household name among parents around the world as one of the best height growth supplements. It is manufactured and exclusively distributed by NuBest Inc., a premium supplement company renowned for its prestigious and high-quality healthcare products with its headquarter based in the US. The company employs sophisticated technology and advanced production line to turn exhaustive research by its scientists into safe and effective offerings that satisfy customers' increased demand for healthcare products.
However, parallel with the advent of e-commerce is the proliferation of counterfeit goods, especially when it comes to the healthcare industry. This makes it hard for consumers to distinguish between the vast majority of healthcare products in general and height growth supplements in particular.
As a result, it is understandable that you are doubtful about the safety of NuBest Tall and how to use the product for maximum results. This article will provide you with useful information on the origin, composition, usage, and price of NuBest Tall so that you can add it to your shopping cart next time you are looking for height growth supplements.
Composition of NuBest Tall
NuBest Tall pills are not medicine. The product serves as a dietary supplement that is designed and developed to help children and teenagers increase their height throughout their growing years. NuBest Tall is formulated and manufactured in the US, and certified by the Food and Drug Administration (FDA) for free sale. Thanks to this, NuBest Tall gradually wins the trust of parents around the world and is widely distributed in more than 110 countries.
Nanometer Calcium is the main ingredient of NuBest Tall. With microscopic molecules, Nanometer Calcium is absorbed into the body faster than other Calcium forms. As Calcium accounts for 70% of the bone structure, the body needs adequate Calcium supplementation in order to promote physical development, increase bone strength and elasticity as well as increase height maximally. Furthermore, Nanometer Calcium can be absorbed from the intestine into blood vessels without being deposited, thereby preventing excess Calcium, kidney stones, or constipation in children and teenagers.
Hydrolyzed Collagen Type 2 is another primary ingredient of NuBest Tall that helps to optimize height growth in children and teenagers. Specifically, Collagen Type 2 is a vital raw material in forming the cartilage. It is the cartilage itself that participates in bone formation, which directly increases bone length and constantly improves the height growth process.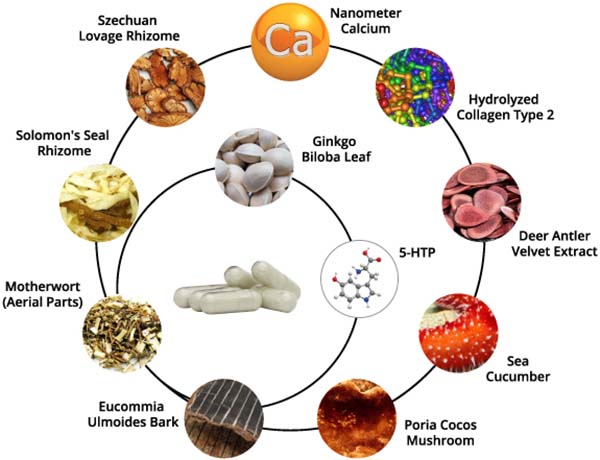 The combination of Ginkgo Biloba Leaf and 5-Hydroxytryptophan also contributes to delivering NuBest Tall's benefits. Such a combination can promote a goodnight's sleep, which in turn triggers the natural release of growth hormone in the body. At the same time, Ginkgo Biloba Leaf, which contains plenty of Flavonoids and Terpenoids, enhances blood circulation, stimulates brain activity, and boosts brain development.
Moreover, NuBest Tall's formula comprises a proprietary blend, namely Sea Cucumber, Poria Cocos Mushroom, Eucommia Ulmoides Bark, Motherwort, Solomon's Seal Rhizome, Szechuan Lovage Rhizome, and Deer Antler Velvet. This combination can activate the pituitary gland to secrete more growth hormone, an important factor that helps to speed up height gain in children and teenagers. Plus, this proprietary blend also delivers essential nutrients to not only foster rapid height growth but also enhance body resistance and overall health.
All of the natural and active ingredients in NuBest Tall's formula have been strictly and thoroughly tested for quality and exclusion of harmful chemicals to ensure the product is safe for consumers' health.
With natural and valuable medicinal herbs in its ingredients, NuBest Tall supplements children and teenagers with necessary nutrients and supports their optimal height growth. Simultaneously, all of the ingredients work together to establish a strong immune system for the children's growing bodies. What is more, each nutrient is in charge of different functions, altogether assisting in the overall development of children and teenagers and stimulating brain activity.
The product is recommended for children (5 years old and above) and teenagers (as long as their growth plates have not completely closed) who do not drink milk daily.
For children from 5 to 9 years old: Take NuBest Tall pills twice a day.
For children and teenagers from 10 years old and above: Take NuBest Tall pills three times a day.
Parents can consult their doctors for an appropriate dosage depending on their child's physical conditions. For the best absorption, NuBest Tall should be consumed 30 minutes before meals or an hour after meals. Also, NuBest Tall works best during puberty and should be continuously used for at least 6 months.
How much does NuBest Tall cost?
NuBest Tall height enhancement pills are currently sold on Amazon and the manufacturer's website for $55 including taxes, but excluding the shipping fees.
Is NuBest Tall safe?
NuBest Tall is formulated with natural ingredients, carefully tested, and clinically evaluated to ensure its safety for consumers' health. Although NuBest Tall's safety is confirmed by millions of customers worldwide, there are a few points to take into consideration to ensure the optimal height increasing effect, specifically:
NuBest Tall is a dietary supplement, not a medicine, and therefore should not be used to replace medicine.
Results may vary from person to person.
Inconsistent or short-term usage may diminish or eliminate the effects of NuBest Tall.
Do not intentionally adjust the dose. NuBest Tall pills should be taken according to the recommended dose or doctor's advice.
If no improvement in height is noticed, you should consult your doctor about whether to continue or stop consumption.
Do not use NuBest Tall with other height growth supplements without your doctor's advice as it can reduce the product's effectiveness and cause unpredictable side effects.
Although there have been no reports of adverse effects caused by NuBest Tall pills, if you experience anything unusual during use, seek immediate medical attention for further advice.
NuBest Tall should be used within 36 months after the manufacturing date. Tighten the lid after use, store the product at room temperature, avoid exposure to sunlight, and keep it out of children's reach.
Is NuBest Tall FDA approved?
NuBest Tall pills are manufactured using advanced technology and efficient production lines that meet international standards, including cGMP and HACCP. The company is also approved by the US FDA with a Certificate of Free Sale. It should be noted that even if a company produces its products in the US, without a Certificate of Free Sale, the products cannot be sold in the US and can only be exported to other countries.
As discussed above, NuBest Tall is a dietary supplement to boost height growth for children and teenagers. The product is FDA approved for its safety and quality and is distributed across the globe. The natural and active ingredients in NuBest Tall can work their magic in increasing height for those whose growth plates are yet to close completely.
In addition, as results may vary depending on different individuals, it is important to lead healthy lifestyles with nutritious diets, enough sleep, and regular exercise along with taking height growth supplements in order to achieve your desired height.